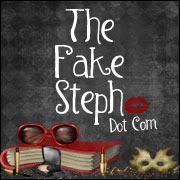 About The Fake Steph Dot Com
The Fake Steph Dot Com is a blog dedicated to stories.  While my focus has always been books, my content may include posts about screenplays, television, movies, graphic novels, fashion, or my personal life.  Please let me know which
features
you enjoy.
About Fake Steph
On the internet, everyone is trying to prove who they are, that they are real.  But really, like in real life, we can be whoever we want.  I can create the Steph I want to be and represent her on this blog.  
This speech by John Green inspired me as a writer, reader, and educator and influenced the naming of this blog.  Each day I search for ways to prove that I am real.
About Real Steph
I am a former film student, former Hollywood assistant, former grad-student, and now a high school English teacher.  My friends (and students) tell me that I don't know the meaning of the word favorite, but there is nothing wrong about loving without reservation and being passionate, an anti-hipster, so to speak.  I live in Virginia where I clean less than I should, read and write as much as I can, and take pride in being an awesome auntie.
E-mail me at RealSteph at thefakesteph dot com.