Today I'm going to share my favorite scary stories.  These aren't necessarily the most frightening in the moment, but these are the ones that stayed with me and creeped me out.
BOOKS
Lord Loss–The book starts out with the main character discovering that demons have killed his parents and sister… and by "having killed", I mean playing with their dead bodies.  ( I LOVE this book, by the way.)
I Am Legend–It's more gruesome than scary, but the moral questions it raises are haunting and the last line still gives me shivers every time I think about it.
Bumped
–I realize this isn't horror, but a good satire should scare you when you see the parallels to modern culture.
The Exorcism of Emily Rose
–The whole 3 am thing…. yeah…. I hate being awake at 3am now.  For someone who grew up in a very conservative Christian home, this horror film has just enough "totally could happen" to stop my heart.
Scream
– This movie is so self-aware that I almost want to call it intellectual.  It is smart, funny, and scary all at the same time.
The Twilight Zone
— So many of these scared me, but I still spent many New Years Eves watching the marathon on the Sci Fi Channel with my friends.  These were seriously good stories.
Bloggers Dressed In Blood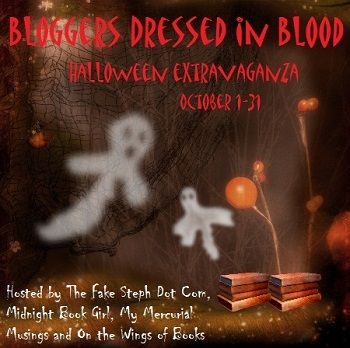 Any post that celebrates scary books AND links back to this event using the Bloggers Dressed In Blood button will be entered into our giveaway to win some of our favorite scary books from our personal collections, candy, AND a like-new kindle touch with ads (
courtesy
 of Danielle).  Enter your link below and make sure to check out all the details here.
Related Posts